Layered ensembles capture the essence of Fall. Layering isn't merely a practical approach to staying warm; it's also a creative and stylish way to express your personal fashion flair. In this guide, we'll explore the art of layering for fall clothes and jewelry, helping you create chic and cozy looks that seamlessly transition from the warmth of summer to the chill of fall.
Layering for Fall Clothes
 1. Start with a Solid Foundation
Begin with a comfortable base layer. Choose lightweight, breathable fabrics like cotton or silk for your undergarments. Your base layer will depend on where you live. For instance, Texans, like me, will be just fine with a tank top or t-shirt. Colder areas such as New York, might want to opt for a well-fitted thermal or long-sleeve tee. These can serve as excellent starting points.
Our Favorite Base Layer Pieces:
2. Add a Mid-Layer
The mid-layer is where you can introduce style and texture. Consider layering with items like:
Cardigans: These versatile pieces come in various weights and styles, from lightweight to chunky. A cardigan can add a pop of color and coziness to your outfit.
Vests: Quilted or puffer vests are ideal for providing warmth without bulk. They look fantastic over long-sleeve shirts or light sweaters.
Flannel Shirts: A classic flannel shirt can be worn open over a tee or buttoned up as a shirt-jacket. It adds a rustic touch to your fall ensemble.
3. The Outer Layer
Your outermost layer should be both functional and stylish. Options include:
Coats: Choose a coat that complements your outfit's color palette and style. Trench coats, pea coats, and parkas are all popular choices for fall.

Jackets: Leather or denim jackets are timeless fall staples. They add a touch of edge and can be layered over sweaters or long-sleeve dresses.
Our Favorite Coats and Jackets:
4. Don't Forget Your Pants To Finish Your Look
Finish off with some cargo pants, jeans, or trousers. These pants are our favorites for this Fall!
Layering with Necklaces
1. Embrace Layered Necklaces
Layered necklaces are a versatile and chic addition to your fall fashion. Here's how to create a stunning necklace ensemble:
Varying Lengths: Start with necklaces of different lengths to create depth and visual interest. A choker, a mid-length pendant, and a longer chain are a classic combination.

Mix Styles: Mix different necklace styles for a balanced look. Pair a delicate, minimalist chain with a statement pendant or a chunky necklace for contrast.

Coordinate Metals: Ensure that the metal tones of your necklaces harmonize. Mixing metals can be fashionable, but a coordinated approach provides a polished look.

Include Meaningful Pendants: Incorporate pendants that hold personal meaning or tell a story. Whether it's a birthstone, a favorite symbol, or a cherished charm, these elements make your necklace layers unique.
Our Favorite Layered Necklace Sets:


 Shop Now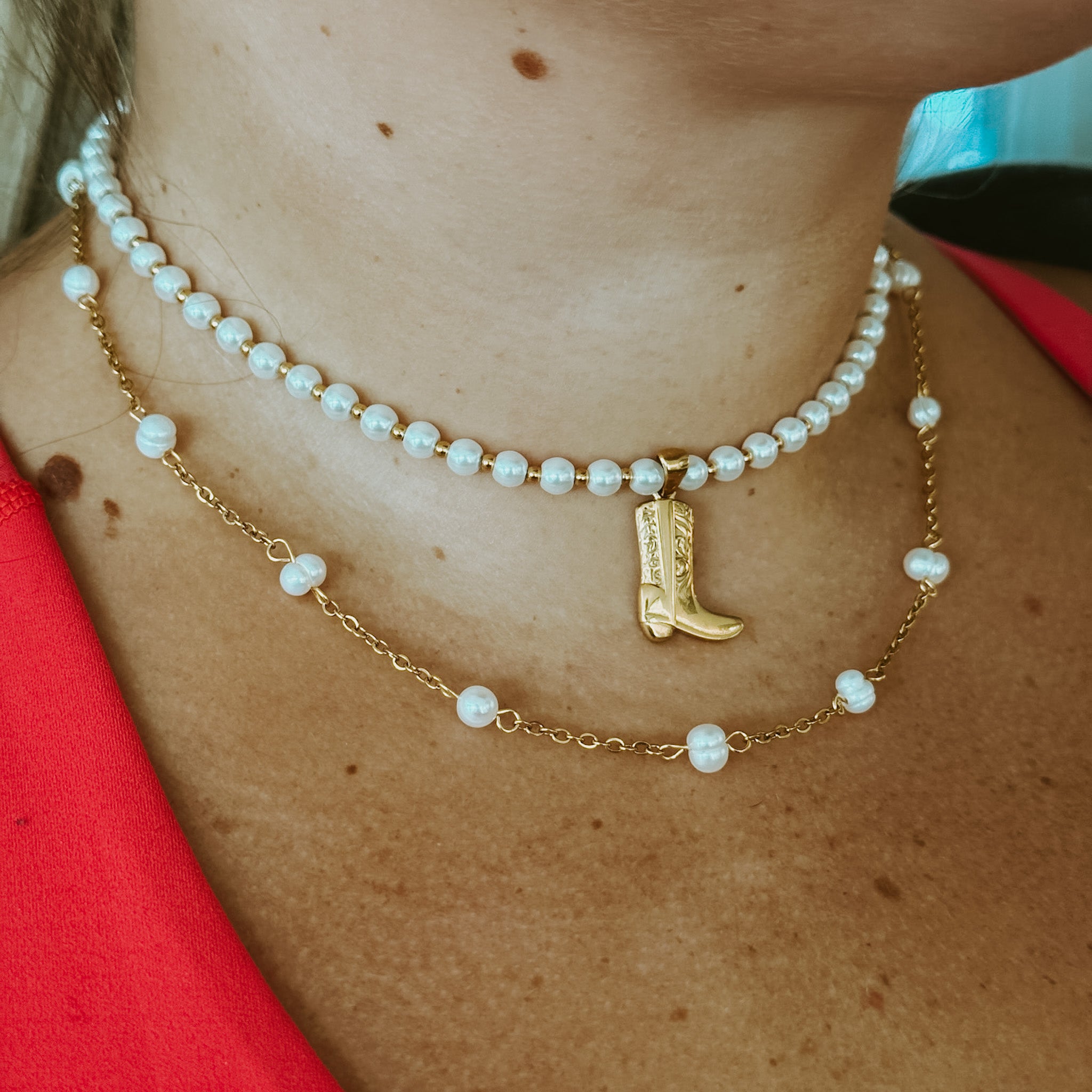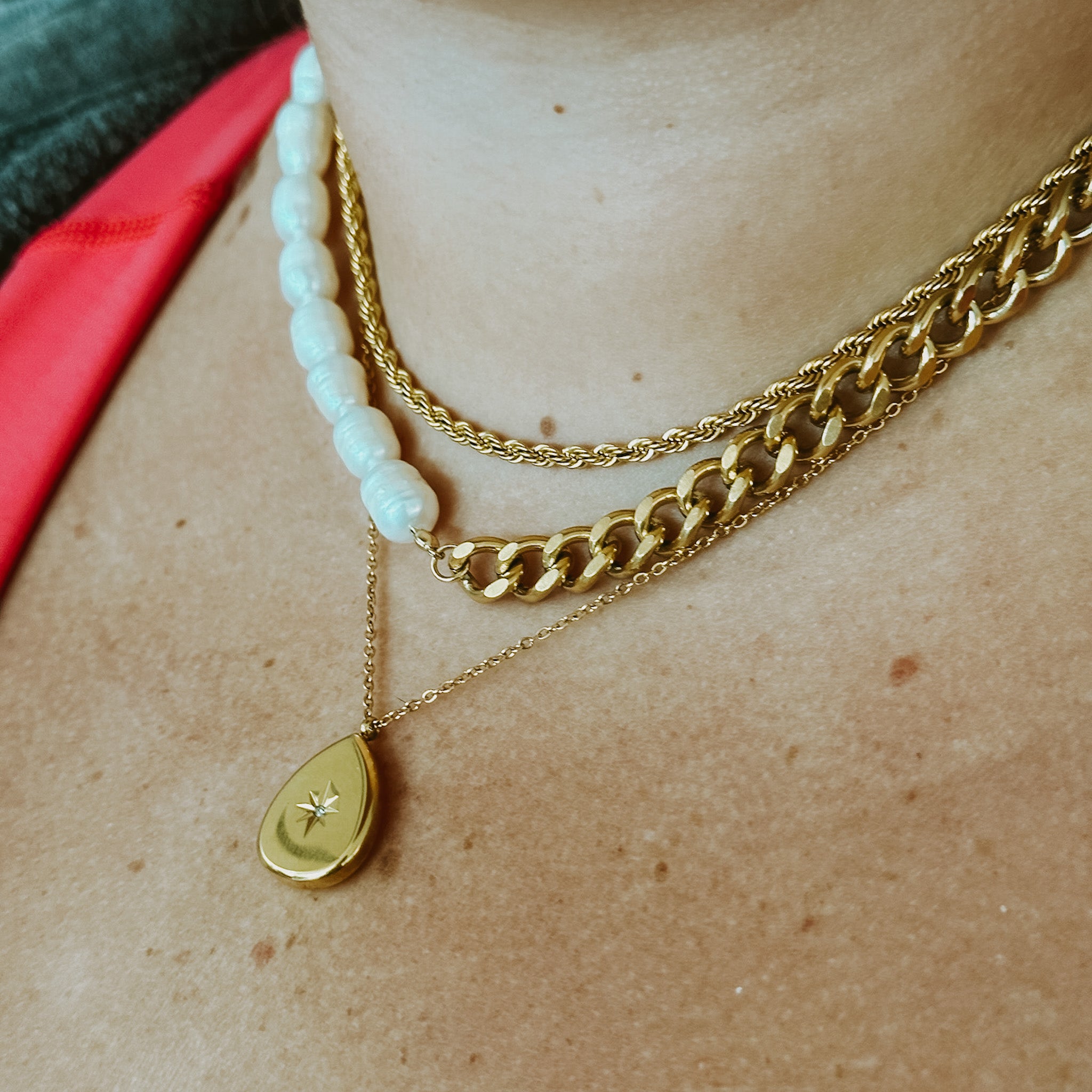 Conclusion
Mastering fall layering for clothes and jewelry, especially layered necklaces, allows you to express your style and stay cozy as the temperatures drop. Start with a comfortable base layer, add stylish mid-layers like cardigans or vests, and top it off with functional and fashionable outerwear.
When it comes to jewelry, embrace the art of layered necklaces. Play with varying lengths, mix styles, coordinate metals, and include meaningful pendants to create a personalized and chic look that complements your fall attire.
This autumn, embrace the creative possibilities of layering, and let your outfits and jewelry reflect the warmth and beauty of the season. Whether you're enjoying a leisurely walk through a pumpkin patch or sipping hot apple cider by the fireplace, you'll be fashionably prepared for the cozy charm of fall.